Know More About
Salesforce®️ Development Services
Salesforce Sales Cloud®️, Marketing Cloud, Service Cloud®️, Salesforce Wave Analytics, Pardot, Chatter, Communities, Salesforce1™️ based mobile application, or Salesforce AppExchange®️ Apps, we are experts in everything 'Salesforce'.
Being a Salesforce development company,
we help organizations in planning, designing, and implementing complete Salesforce®️ based business solutions. We transform the way businesses interact and manage their customers, products, partners, and even employees. We are here to unleash the full potential for you.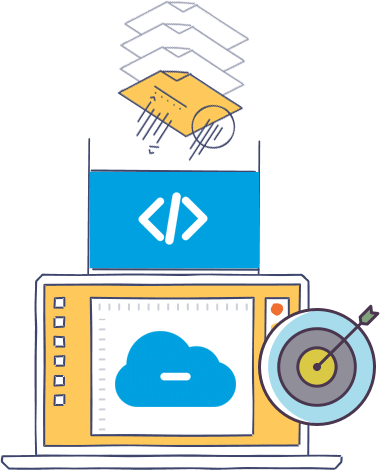 OUR
Best Feature
SALESFORCE®️ SERVICES
MORE ABOUT
Salesforce®️
Implementation Consulting
We help organizations plan and strategize the most efficient way to implement Salesforce.com products for their business processes. We employ our decade long experience for you in finding the right Salesforce.com product, the right feature set, and the right customizations.
MORE ABOUT
Salesforce

Force.com®️

A part of Salesforce App Cloud, Salesforce Force.com®️ is a robust cloud computing platform focused on automating business workflows. We here at Algoworks help organizations develop and implement powerful Force.com®️ based business solutions.
MORE ABOUT
Integration with Third-party Solutions
Although Salesforce is the future of digital transformation, still, Salesforce alone is not suitable to solve all business challenges. Therefore, organizations use multiple softwares to solve their problems. We help these organizations connect these third-party softwares with their Salesforce®️ Solution so that they can work more efficiently and smartly.
Salesforce Application Development
For ISV's AppExchange®️ app is an easy way to tap into Salesforce using customer base and provide a way to integrate your solution with Salesforce®️. For businesses, Salesforce AppExchange®️ app can allow them to add complex features in all their Salesforce instances, via a simple click and install.
MORE ABOUT
Salesforce1™️ Mobile App Development
Salesforce1™️ Mobile App platform extends Salesforce functionalities to mobile devices. We help companies fully utilize this platform and extend their Salesforce®️ based custom features and business process to mobile.
Salesforce Lightning®️
Application
The latest update in user interface, the Lightning Experience, has once again changed the way businesses use Salesforce®️. Even though this opened up new opportunities and way to use Salesforce®️, organizations still have to rebuild their customizations to match the new user experience. Luckily for you, we have mastered the lightning and we can help you in every step of the transition.
Salesforce, Sales Cloud, and others are trademarks of salesforce.com, inc., and are used here with permission.
Our Insights
Your curiosity ends here!