Why AppExchange® App Development?
Here are the main reasons why your company needs Salesforce Appexchange® Development
150K Users
Salesforce® has 150K+ enterprise-level dedicated app users.
Competitive Advantage
Extend your services and product offerings to gain a competitive edge.
Custom Features
Add custom features to all Salesforce® instances easily.
App Monetization
Paid apps on Appexchange® helps you earn revenue.
Why Algoworks?
We are Salesforce Appexchange® Development Experts
At Algoworks, we have been developing apps since our inception. We have built custom apps for enterprises looking to add custom features to their multiple SFDC instances. Having built powerful paid apps for Independent Software Vendors We aim to extend their business offerings to Salesforce® users.
We have mastered Salesforce Lightning™ and build Lightning-ready Salesforce Appexchange® apps.
AppExchange® Compliance Experts
We are experts in getting apps approved on AppExchange®.
Salesforce Cloud Alliance Partners
We are certified Salesforce Cloud Alliance Partners.
Makers can get a competitive edge through Salesforce AppExchange® app.
Our experts can tell you how!
Our Core Services
From implementation to customization, we are all-round Salesforce® appexchange development experts.
Here are our core services around Salesforce AppExchange®.
App Consultancy
We help organizations develop and implement complete Salesforce AppExchange® roadmap.
Salesforce® Appexchange App Development
From design and development to deployment , we provide end-to-end
AppExchange® app development
services
AppExchange® Compliance
Having trouble publishing app on AppExchange®? Our experience and expertise will come to rescue.
Lightning and Salesforce1™
We will make your existing apps Salesforce1™ and Lightning™ compatible.
How Can we Help you?
Get to know about Salesforce appexchange development at Algoworks
Learn how we can transform your business

Contact Us
Fill the form and someone from
our side will contact you soon
Is Your App
Lightning™ Ready?
Lightning™ experience, the latest UI change in Salesforce® has opened possibilities to seamlessly integrate your apps with Salesforce® orgs.
Lightning™ Ready Apps
We develop seamless Lightning™ Ready Salesforce AppExchange® Apps.
Lightning™ Components
We are experts in
Salesforce AppExchange® app development
using Lightning Components and Lightning™ App Builder.
Lightning™ Ready Integration Apps
We offer special services for creating Lightning™ Connect based Lightning™ ready custom integration apps.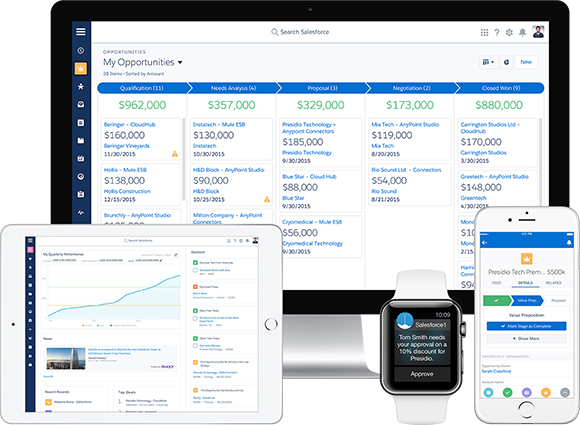 Is Your App
Salesforce1™ Compatible?
Salesforce1™, the awesome Salesforce.com platform that brought SFDC instances to mobile devices, is growing in popularity at exponential rate. Don't lack behind and make your app compatible with the platform.
Salesforce1™ Compatible Apps
We develop Salesforce1™ Compatible apps that work seamlessly on mobile and desktop.
Salesforce1™ Customization
We help organizations customize the Salesforce1™ app to match the branding of their company.
Salesforce1™ Automation
We automate your Salesforce1™ app based business processes using custom built apps.
Our Apps
Check out below a collection of our beneficial Salesforce appexchange apps.
Opportunity Manager
Algoworks Opportunity Manager is a native Salesforce.com application aimed at transforming the way Salesforce® users interact with Opportunity related workflows. The app has an intuitive design and makes the process of handling opportunities very user-friendly. The App's unique pipeline view, pagination view, and summary charts truly makes the management of Opportunities easier, faster, and smarter.
The app was featured by Salesforce.com, has multiple positive reviews on Appexchange® and enjoys a 4.7/5 overall rating on AppExchange®. The App is free to install and use.
Case Management
A Lightning ready and 100% native app, Case Management App is designed to help users with better Case management. The app offers to merge duplicate Cases, and split a Case into various Cases. It also helps to manage Case SLA through an intuitive flag system helping users to manage cases easily.
The Case Management app is featured on AppExchange, with a rating of 5 out of 5, and a bunch of positive reviews.
Task Manager
Task Manager is a Force.com app. This native app empowers user to never skip a task, and provides the advantage to managers to set deadlines on tasks and segregate them priority-wise. It also allows users to view tables in a single shot.
The Task Manager app enjoys a whopping review of 5 out of 5 on AppExchange, along with some positive reviews from the users.
Salesforce, Sales Cloud, and others are trademarks of salesforce.com, inc., and are used here with permission.
Our Insights
Your curiosity ends here!