App Functionality Testing
End to end mobile functionality testing to make sure that each app feature works flawlessly.
Complete automation of mobile app testing environment for faster release cycle and better user experience.
User Interface Testing
We make sure that the User Interface of the app works as intended in all devices, and all platforms.
Know More About One Of The
Best Mobile App Testing Companies
With a decade long experience in Mobile app testing services and quality assurance, we here at Algoworks have developed a unique business-driven test management and test execution approach that ensure that your mobile app delivers high quality user experience and at the same time have a lowest possible time-to-market.
From performance testing to automation of test environment, we are always up to date with all the latest tools, technologies, and techniques related to app testing.Hire the best Mobile App Testing Services partner
Why to chose us for mobile app testing services
We have been one of the top Mobile App testing Companies for over 13 years, and have been able to deliver 3X fixes in half the time. Following are the various other reasons why you should choose us…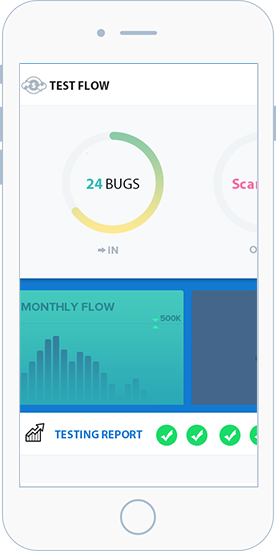 100+ Devices
We have a collection of 100+ different mobile devices of all platforms and we test on every single one of them.
Integrated Reporting
All our
mobile application testing
solutions have integrated reporting and test management solutions to ensure smooth execution and evaluation of tests.
Structured and Planned Testing Approach
From creating unit test jobs to executing complete integration app testing, we plan our every move.
Core Services of Mobile App Testing Companies
We provide end-to-end mobile app testing services.
Mobile Compatibility Testing
Mobile Performance Testing
Mobile User Experience Testing
General FAQs
Software Testing is an examination conducted to furnish information about the quality of a particular product or service under test. In other words, we can say software testing is a process of verification and validation.
Application Testing is described as a type of software testing, conducted through scripts to find flaws in software. It deals with tests for the entire application. It serves to enhance the quality of your applications while reducing costs, maximizing ROI, and saving development time.
QA involves actions that ensure the implementation of processes, procedures, and standards in context to verification of developed software and expected requirements.
Some of the best automated tools are Appium, robotium, UIautomator, Calabash, Selendroid.
"Software testing can be functional and non-functional.
The functional type can be further divided as Unit Testing, Integration Testing, System Testing, Sanity Testing, Smoke Testing, Interface Testing, Regression Testing, and Beta/Acceptance Testing.
The non-functional type includes Performance Testing, Load Testing, Stress Testing, Volume Testing, Security Testing, Compatibility Testing, Install Testing, Recovery Testing, Reliability Testing, Usability Testing, Compliance Testing, and Localization Testing."
How Can we Help you?
Learn more about what we do
Learn how we can transform your business
Our Insights
Your curiosity ends here!