Algoworks Wishes You A Jolly Christmas And A Wonderful New Year!
It's the most wonderful time of the year! The best way to spread Christmas cheer is singing loud for all to hear! Merry Christmas!
Will Microsoft Azure IoT Suite Live Up To The Expectations?
In the upcoming wave of innovation, the IoT phenomenon will be progressing at a pace never ever imagined before. March 2015 has witnessed the declaration of Azure Internet of Things Suite during the Microsoft Convergence 2015 meet. With this incalculable surge of IoT it was Microsoft's vision to provide a scalable and upgraded platform for enterprises spanning from startups to globally renowned companies so as to create new values and thrive in this era of Internet of 'each and every' thing. So let's find out Wether Microsoft Azure IoT Suite will live up to the expectations or not wiht this ultimate video. More Information at : https://medium.com/all-technology-feeds/will-microsoft-azure-iot-suite-live-up-to-the-expectations-dd79f3ac4722#.aba5o1aw3
Salesforce Health Cloud – Creating Patient Relationships Not Records
Unfortunately, the gruesome truth facing the world today is the ever increasing pressure of diseases due to chronic disorders, pollution, growing age, and definitely increasing expectations of patients. Amongst this exponential growth of increasing pressure of patients and their records Salesforce adopts the motto of "Create patient relationships, not records" - with "Salesforce Health Cloud". Check out this ultimate video. More Information at : https://www.algoworks.com/blog/salesforce-health-cloud/
Impact of Cloud, Mobile and Big Data on IoT
There has been and still is an incalculable hype about the Internet of Things or IoT. It has surged to an irrevocable level. More than 50 billion things are expected to be connected by the year 2020. So we can say in a way IoT is rendering to objects eyes and voice besides other senses of abilities to think and to react. With Internet of Things, this ultimate video talks about the concept and impact of mobility, big data analytics and cloud computing. Stay glued to your screens 😉 To know more please visit: https://medium.com/all-technology-feeds/impact-of-cloud-mobile-and-big-data-on-iot-acd08ecd781f
EnterpriseJS – The Bigger Picture!
The all new Node.js coalition manages to capture the spotlight. Node.js support company NodeSource along with its users Intuit and PayPal had formed a coalition namely EnterpriseJS. This EnterpriseJS coalition website explains that 'this is a community that looks forward to achieve the common goal of boosting up the JavaScript server side development through collaboration, conversation and education'.... You'll get the whole knowledge of it here...so dont't miss to check this out. More Information at : https://www.algoworks.com/blog/enterprisejs/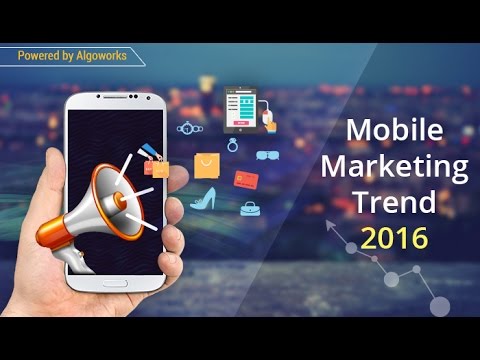 5 Latest Mobile Marketing Trends To Dominate 2016
There's no doubt about the fact that mobile marketing is definitely the future and the passing year has proved to be the tipping point. Mobile marketing strategies span across all possible industries in this century. Omnipresent the way it has been, the marketers need to be on their toes to adapt and integrate the new ways of mobile marketing in their promotional strategies. This video is about the top 5 mobile marketing trends setting 2016 on fire. More Information at : https://mobileappninjas.wordpress.com/2016/02/09/mobile-marketing-trends/
Hybrid App Development Using RAD Tools A Buzzword For Enterprises
Enterprises are looking to leverage mobile applications across multiple platforms in order to address the need for mobile applications. Appealed by the value added features of Hybrid Architecture, enterprises are racing ahead to gain the most out of this trend. Hybrid Architecture supports Rapid Application Development and portability of HTML5 Web apps with a native container (which facilitates access to native device features). Check out Why Enterprises Are Going For Hybrid App Development using RAD Tools. More Information at : https://www.algoworks.com/blog/hybrid-app-development-using-rad-tools/
User Guide – Algoworks Opportunity Manager (AWOM)
Inspired by the preferences and motivated by the demands of thousands of voices of Salesforce users, Algoworks is proud to launch its first Force.com native application-Algoworks Opportunity Manager or simple AWOM. It is a complete Salesforce app for smarter, faster, and easier opportunity management. The app is intuitive, ingenious, and steps ahead of the native force.com opportunities management interface. More Information at : https://www.algoworks.com/salesforce/opportunity-manager or https://www.algoworks.com/blog/algoworks-launches-awom-a-salesforce-plug-in-for-opportunity-management/ AWOM Installation Guide: http://www.slideshare.net/algoworks/installation-guide-opportunity-manager-v13 or https://appexchange.salesforce.com/listingDetail?listingId=a0N3000000B56QLEAZ