Rangoli Competition at Algoworks – Diwali Celebration 2018
Time for some Rangoli Making Tour! Only if you could guess what it turns to be eventually... They are all grounded this Diwali... for the best Rangoli of course! The creativity and colors when gelled with the fragrance of the spirit of Diwali, you get the best Rangoli results.
Enterprise App Development Trends For 2017
Technology has evolved with time. The old trends are lost. The new ones are here to take over. As the old technology trends, do not address the growing needs of companies, therefore, it is important for enterprises to incorporate the newest trends for gaining a competitive edge, improving agility and productivity. Enterprise app development is more focused towards making processes more efficient and enterprises more productive. Let us have a look at some of the enterprise application development trends that will be focused upon in 2017.
How to Integrate QuickBooks with Salesforce?
QuickBooks and Salesforce are two of the most used cloud based software. They are used by small to large scale companies alike and the integration between the two can save hours in manual data migration. So if you are considering integrating your Salesforce product with QuickBooks, there are many things that you need to be mindful of. IN short you need to have answers to several questions before you begin...Go through it.
7 IoT Trends Persisting From 2016 to 2017
Learning about the Internet of Things can be dizzying. It had utterly revolutionized the concept of digitization by changing it from a practically isolated concept to a virtual experience and reducing the proximity to the real world. 2016 was the year that actually started realizing the potential of Internet of Things or IoT.
Salesforce Einstein – CRM Stepping Into The World Of AI
We belong to a hyper-connected world these days where each and every step we take is an onslaught of data. So in this world what we need is something to get hold of the immense data surge and draw necessary insights from them. Especially in the world of business these data and their patterns can reveal much about the future needs and thereby help in enhancing sales to a great extent. But the only solution to the query how the unfathomable data can be converted to a meaningful stream of data generating valuable insights is Artificial Intelligence. So let's find out how will Salesforce Einstein make a change.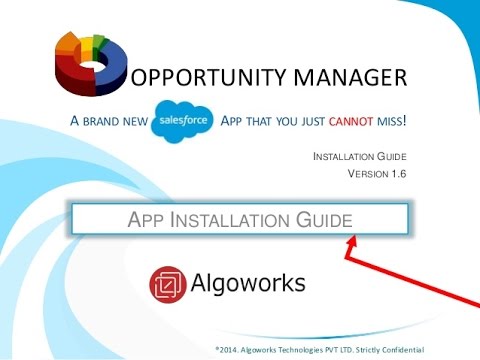 AWOM Installation Guide- A Complete Salesforce Plugin for Opportunity Management
You can find the next video link of the AWOM User/Feature Guide here: --YouTube: https://www.youtube.com/watch?v=n7Y7yAUQwqo --Slideshare: http://www.slideshare.net/algoworks/feature-guide-opportunity-managerawom For more information on AWOM, you can visit https://www.algoworks.com/salesforce/opportunity-manager To know more about our expertise in Salesforce, visit: https://www.algoworks.com/salesforce/
7 Benefits of AngularJS 2.0 For Application Development
Since the time AngularJS was released, it has dominated the world of open source JavaScript frameworks. Developed by Google in 2009, it not only improves HTML used in web applications but also simplifies testing and development and technical nuances for developers. Though AngularJS 1.4 is both stable and highly efficient, the latest version 2.0 is now ready for release and is coming up with a complete rewrite of entire framework and with massive changes. Let's have a look for expectations which developers have with the 'New and Reformed Version'. Let's begin! More Information at : https://www.algoworks.com/blog/benefits-of-angularjs-2-0/
Haven't Switched To ECM Yet? Think About Alfresco!
Documents are an inevitable part of all the organizations. Each organization runs on the core foundation of documentation, hence the document management system needs to be rock solid. In the recent times, it has become impossible to talk about enterprise content management and not mentioning Alfresco. But ECM faces myriad challenges as well, explore these in this ultimate video. More Information at : https://www.algoworks.com/blog/alfresco-an-ecm-approach/