Alfresco & Java

 Project To Help A CMS Firm Process Confidential Documents In The

Most Secure

 Environment
Algoworks helped a New Jersey Publishing and Information Services Firm to convert large amount of highly confidential financial and banking documents to XML format using Alfresco and JAVA
About Client
Our client is a leading publishing and content management services firm who had many fortune 500 companies as end-clients. The client specializes in document processing and conversion services. Keeping in mind the burgeoning demand of financial and banking institutions to digitize old and new documents, our client decided to roll out XML conversion services. At the given time, the conversion process was manual and cannot be automated but the client needed a solution to help manage the conversion workflow and to manage the documents. The client also needed a portal with multi-tenant architecture so that they can push the portal as yet another value added service. Based on the client's requirement for a portal and a document management feature, we suggested using a Java based solution using Struts, Hibernate, JBPM, Spring, and Alfresco technologies.
A Complex Conversion Process
Challenge: To manage automatic and manual conversion processes
The main task of the new solution was to manage the manual conversion process as well as the automated document conversion process. The documents came in image (jpg, png), PDF, doc/docx, and obt formats and was converted into a XML based web document having a pre-defined structuring format. Each document went through the hands of at least 9 different actors. In a nutshell, the client needed a portal through which the customers can submit documents, client's project managers can manage the conversion process, various actors can perform the conversion process, and then the client can receive the converted document.
Solution: A Java based solution to manage the conversion process
We created a multi-tenant based portal, document storage, and conversion solution using JAVA based technology stack. We used an Alfresco system for document management, a Struts, Hibernate, and Spring combination for portal, and an Activiti based system to manage the business process workflow. The project manager employed by the client will receive the document, add his expert instructions related to conversion process, and then pass on the document to a conversion specialist through the portal itself. The specialist will use the integrated conversion tool to process the document, add final touches to the document, and pass it on to QA teams which will in turn pass it on the project manager for final delivery. Role management was strictly enforced. Our solution also had features to allow actor communications. All documents and metadata associated with them was saved in Alfresco.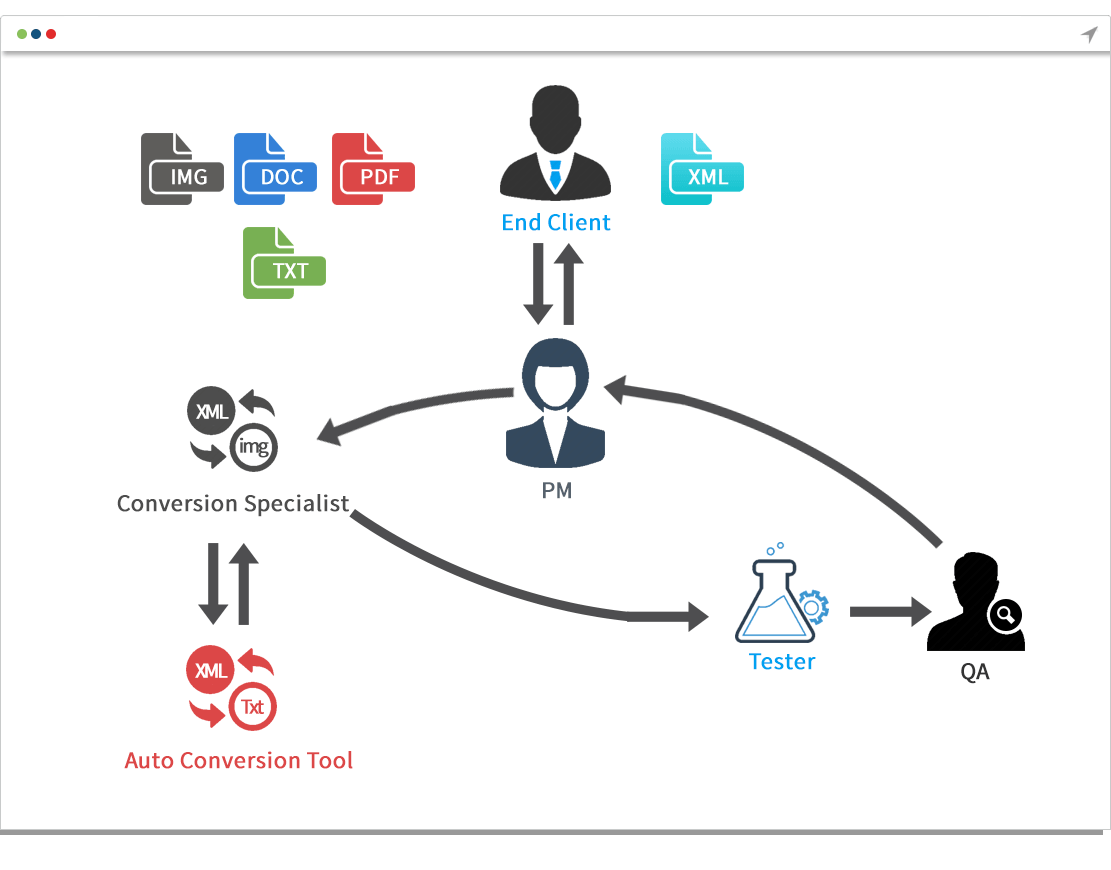 A Portal To Manage Conversion
Challenge: A portal to manage the document conversion process
The client wanted to process and manage the whole document conversion process on cloud. The solution should be able to help every actor of the conversion process and manage the documents efficiently.
Solution: Struts, Hibernate, and Spring combination for portal and Alfresco for document management
We create a robust portal using the combination of Struts, Spring, and Hibernate. We planned a portal with multi-tenant architecture to cater conversion services for different customers. We integrated our conversion tool with the portal and provided the portal user some interesting online document-viewing-features. The customer can submit the document needing conversion to the client via this portal. We used Alfresco as our primary document storage platform and created a complex system of metadata, also stored in Alfresco, to track the document health and history. Adding a new tenant automatically creates a new folder for that tenant in the Alfresco system, accessible only by high level employees of the client or that tenant. We defined specific roles for each actor and limited their access based on their roles. Each actor had their own custom dashboard with their role specific features such as notifications, pending tasks, and analysis reports. The PM can view the status of each document being handled by their teams. We also provided an inbuilt communication feature that allowed various actors to interact with each other via a comment thread.
Automated Document Converter
Challenge: To convert millions of documents quickly
Every end-client had millions of documents that needed conversion. Each customer used different text-file formats for storing their texts and some even used hardcopies as primary document storage format. In addition each customer wanted their converted XML files to adhere to their custom defined document structure. The client needed high performing document conversion tool that can help the conversion process. The client needed a solution that was robust enough to manage a million documents and their versions, and flexible enough to facilitate different document structures.
Solution: A flexible and robust JAVA based automatic document converter
We created a custom JAVA based document conversion tool that will automatically fetch the text from document files and then paste it into a new XML document. The tool had features that allowed users to customize the structure of the final output. The conversion specialist can define what part needs to go at what place in the document. The tool was smart enough to recognize document's format and can parse data into XML format from all document types including doc/docx, PDF, obt, HTML, txt, rtf, and .dot. For the processes of converting image files, the portal had features that allowed conversion specialist to view the image and type the text in a text field, in the same view fold.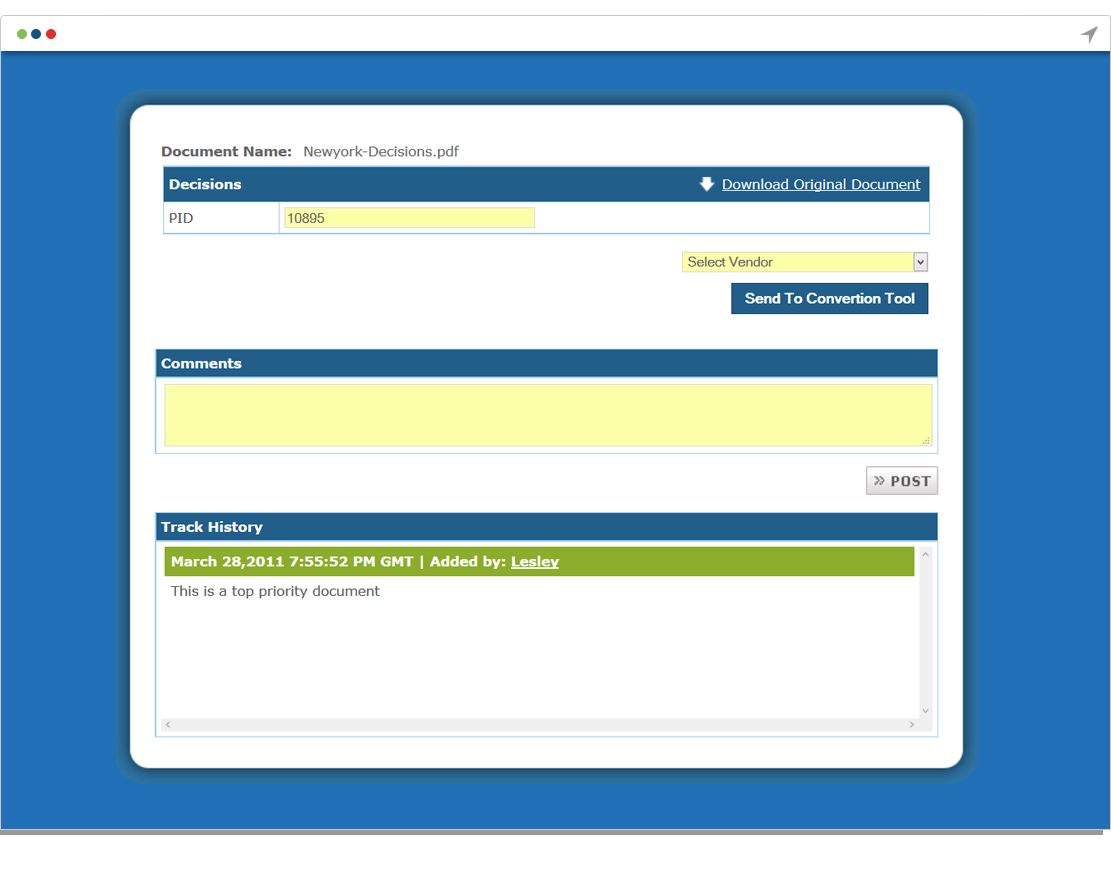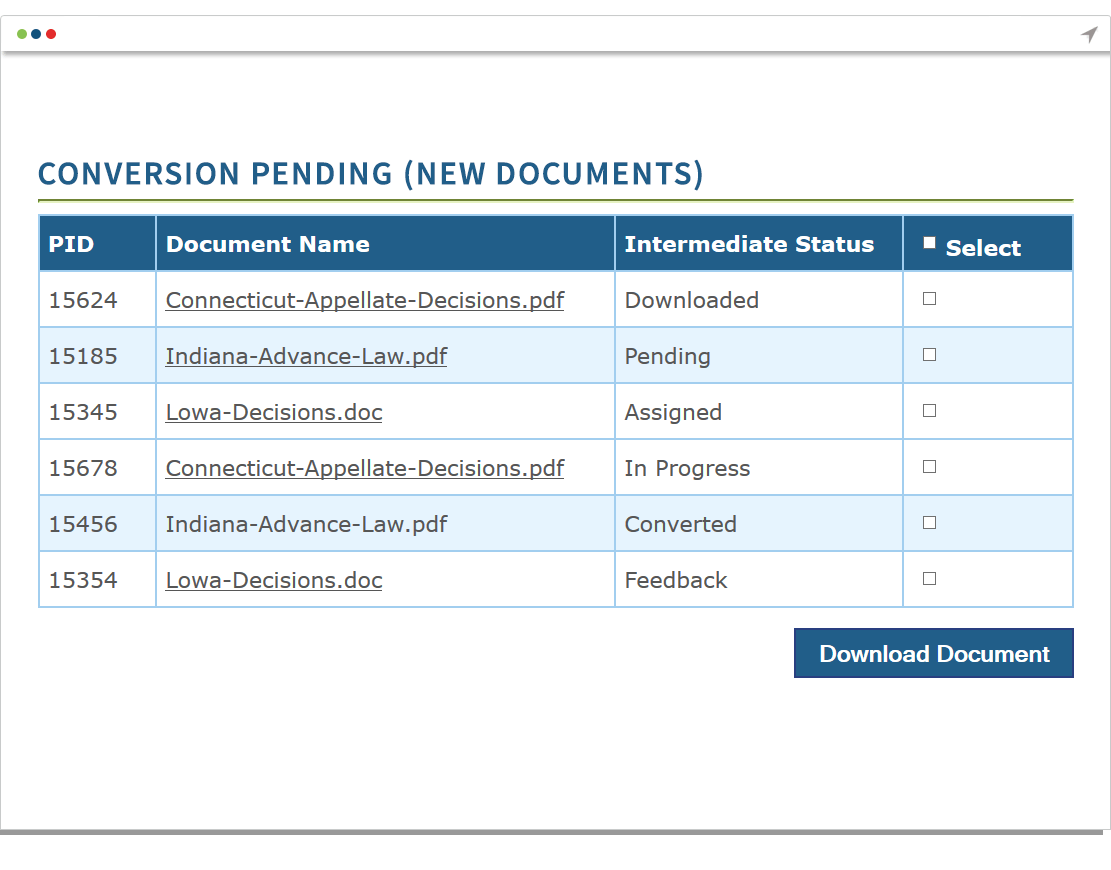 Document Priority And SLA
Challenge: To manage different Service Level Agreements
Each document that comes for conversion has a set priority. This priority is defined in service level agreement that also defines the time that the document conversion should take. This difference in document hierarchy generated a need for features that can help managers and actors to prioritize the document which should go through the conversion process. The client needed user friendly SLA management features enforced in the solution.
Solution: Managing document's priority according to service level agreement
The multi-tenant architecture meant that there were times that multiple documents lined up for conversion were clashing with SLAs. The system was designed in such a way that it highlighted such clashes to project manager and the client, and only processed the document further when this clash is rectified. The dashboard of each player highlighted the priority of each document assigned to them and the special tasks section highlighted which documents should be worked upon first. Every new document addition notification highlighted the priority of the document, and dashboard of each actor notified them of the pending documents based on priority. We created a complex system of meta-data that kept track of each process the document went through, who accessed the document, what is the SLA level of the document, and what is the estimated delivery time of document. We also stored the version history of documents. This meta data helped in tracking the overall health of the document and performance of each actor.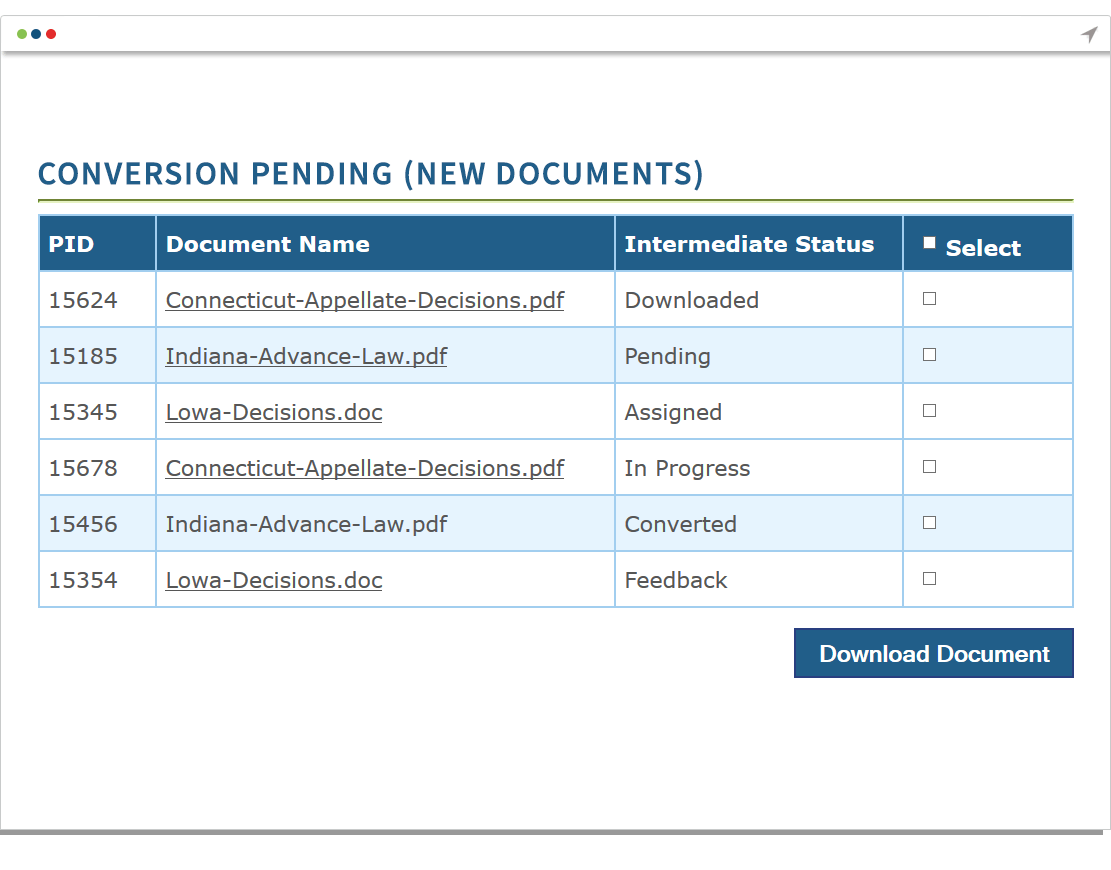 Automatic Report Generation
Challenge: Automatic solution to generate visual and tabular reports
Every process can only be optimized if you have proper analysis and reporting available. Therefore report and visual analytical tools were an important part of the project. The end-client and client both wanted analytical features to help them keep up-to-date of the performance of the ongoing project. They needed tools to analyze document statuses, performance of each team member, overall performance of the team, and even the overall performance of the project.
Solution: Jasper Reports and Google Charts based analysis and reporting solution
We used Jasper Reports to generate automated and user-triggered performance reports. Project managers and end-clients can use the reporting tool to send them automate performance reports. In addition we used Google Charts to create in-portal graphs and pie-charts to visually represent data. Project managers can analyze performance of every actor, all documents, and every sub-process in the whole conversion process.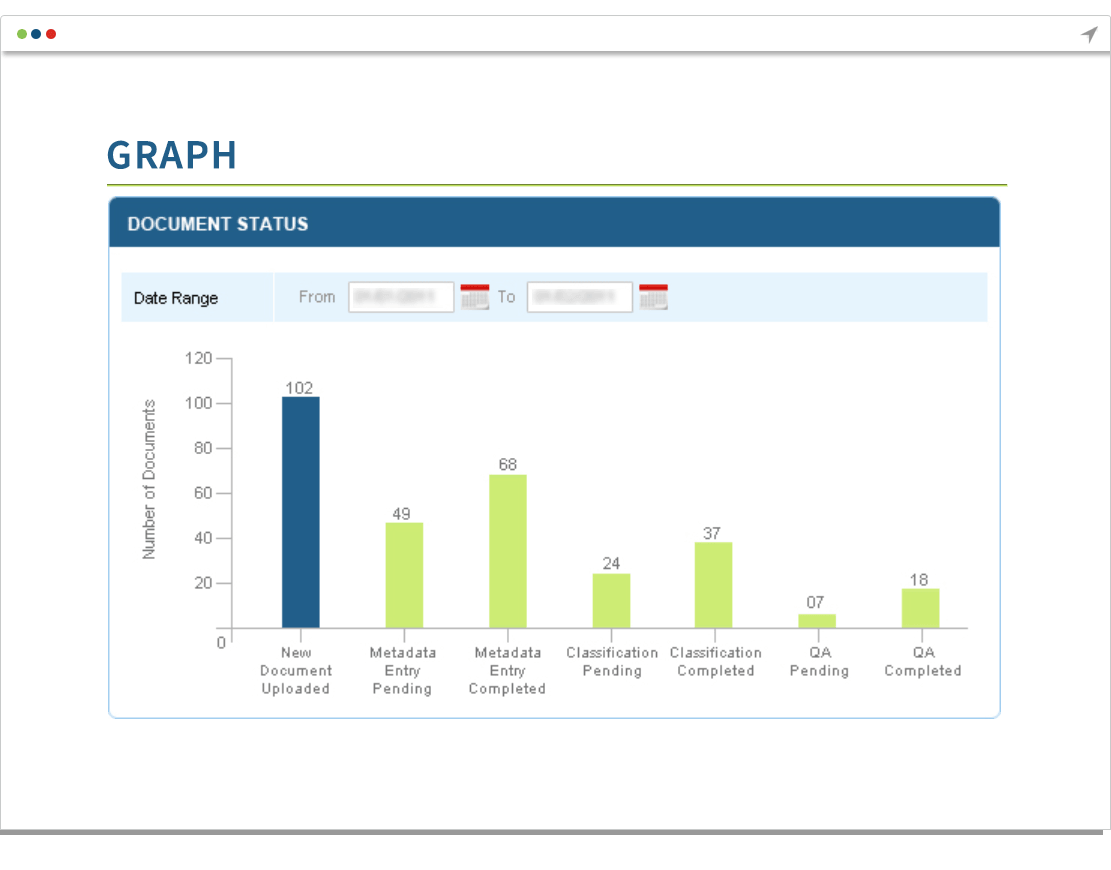 Saved 4+ hours daily
Implemented a new complex workflow which helped speed up conversions thereby saving about 4 hours per day for nearly the same number of documents processed earlier.
Role Management of 9 Different Actors
The flexible solution was now powerful and had capabilities to manage roles of 9 different actors which can be increased to even greater numbers.
Migrated 3.5+ million Documents
The system managed and stored 3.5+ million documents and their meta-data.
100% Secure Environment
100% secure transfer 750+GigaBytes of Documents, Documents Versions, Metadata, and Training Material.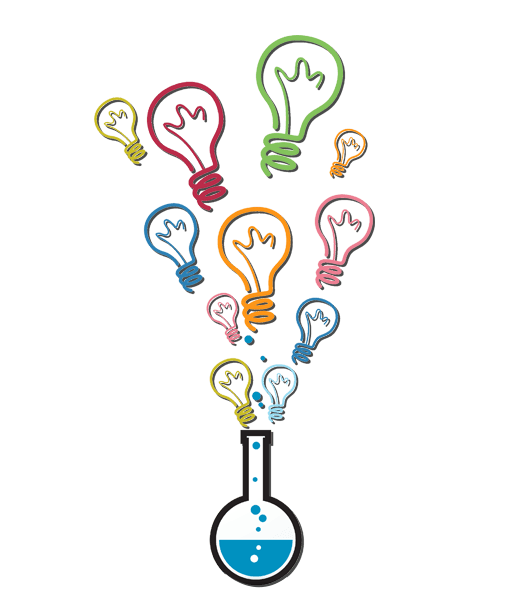 Related Projects
Checkout these related project to know about our company, our work, and our expertise.
Contact Us
Are you facing similar problem in your project or if you want a custom solution fitting your needs, dont hesitate to contact us for a free consult and quote. Get our expert advice before moving forward.